The First International Conference of Medical Students and Junior Doctors on Family Medicine
The First International Conference of Medical Students and Junior Doctors on Family Medicine


May 11-12, Lodz, Poland
Under auspices of
Prof. Andrzej LEWINSKI, Rector of the Medical University of Lodz
Dr. Konstanty Radziwill, President of the Polish Medical Chamber
Proudly organised by the Student Scientific Organisation of the First Department of Family Medicine, Medical University of Lodz and the First Department of Family Medicine, Medical University of Lodz.
      The First International Conference of Medical Students and Junior Doctors on Family Medicine was held from 11 th to 12 th May 2007 in the second biggest city of Poland – Lodz. The ambitious aim of this exceptional event was to encourage medical students and junior doctors from all over the world to conduct scientific research in the field of Family Medicine and spread their crucial results to general public. Lodz – city of four cultures (Polish, Jewish, German and Russian), placed in the very center of Poland, which combines the architecture of 19 th century factories and modern entertainment centers, turned to be the best place to meet the newest research data with the experience of dedicated family physicians.
      The conference took place in a wonderful 19th century mansion, headquarter of Regional Medical Chamber of Lodz and gathered participants from 5 continents, inter alia, Brazil, India, Poland, Spain, Sudan, Switzerland, Turkey, UK and USA. Conducted under auspices of Prof. Andrzej Lewinski, Rector of the Medical University of Lodz and Dr. Konstanty Radziwill, President of the Polish Medical Council, the event was a unique chance to exchange opinions and ideas among medicine doctors and students from all over the world.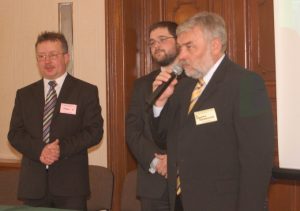 The first day of the Conference began with the opening ceremony conducted by Dr. Przemyslaw Kardas, Head of the First Department of Family Medicine, Medical University of Lodz and Michal Matyjaszczyk, Conference President and President of the Students' Scientific Organisation of the First Department of Family Medicine in Lodz. The introduction was followed by a welcome speech of Prof. J. Brzezinski, Deputy Dean of Medical Faculty, Medical University of Lodz and Dr. M. Krzyzanowski, President of Regional Medical Chamber of Lodz.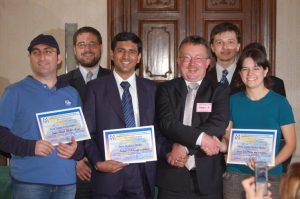 Almost 50 papers and 20 posters accepted for the conference were presented during the first day, each followed by a discussion. The range of topics was vast: from internal medicine and gynecology, through psychiatry and dentistry, to molecular biology, which proves that family medicine is a specialty which attracts the interest of many different fields. The audience was deeply interested in these matters, eagerly took part in a discussion, following each presentation. Thanks to lectures of the three honorable Polish professors – Prof. J. Lopatynski, Prof. L. Sulkowski and Prof. T. Kostka – attendees were informed about the most important issues of today's medicine. After four scientific sessions participants could rest at the Friday Night Party, accompanied by live music band.
      Day two was dedicated to lectures and awards. Prof. Pablo Blasco of Brazilian Society of Family Medicine, Sao Paulo, Brazil informed the audience about educational use of movie clips. This great and moving presentation underlined the meaning of art in patients' treatment. Second memorable lecture, which emphasized the importance of cardiovascular diseases prevention, was performed by Prof. Wojciech Drygas of Medical University of Lodz. Finally, the two main awards, 500 Euros each, were announced. The award for the best doctors' paper was received by Laura Sala Travejo from Spain for presentation entitled "What do immigrants think about our health system?". Rahul Salvi from India was awarded with the student's main award for "A study of extent of off-label use of drugs in obstetrics wards in tertiary-care hospital".
      The First International Conference of Medical Students and Junior Doctors on Family Medicine was a great success. This unique event came across with the number of the newest research data for family physicians from all over the world. Family medicine, as the specialty which deals with people of each age, should be teaching medicine students how to combine medical knowledge into one and how to look at the patient as a human being, not dividing him into small parts: organs and tissues, which often happens with clinical specialists. Organizers knew about it quite well, that is why a wide range of aspects presented during the event and hospital atmosphere, caused the conference to become beneficial to the future of participants. For doctors it was a great opportunity to exchange intercultural experience, improve their practice and discover how to deal better with patients of different nations and races. While for students it was an important chance to show their achievements to the general public, learn the medical topics live and witness the wide range of clinical problems, with which they would deal in the nearest future as family physicians. Both doctors and learners could observe commitment and devotion of their colleagues to the specialty of family medicine – this certainly would improve their approach to patients. International conferences, and this one is no exception, are beneficial not only for participants, but mostly for society, which will be cured in a better and more modern way. With the knowledge obtained during those two days, physicians could return to their homes filled with new inspirations and ways of treating patients. Therefore events like this one are always being looked forward all over the world.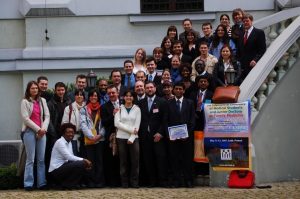 Good organization, great number of presenters and positive opinions of participants make the organizing committee believe that second edition of the Conference will be at least the same popular. Event planned in May 9-10, 2007 will be oriented towards students and doctors of all age who feel the need to exchange their experience with professionals from all over the world. According to organizers motto "Let's meet in Lodz again!", you are already welcomed to participate in this great event.
by Pawel Lewek
Sponsors of the Conference:
  Medical University of Lodz
  Clark University
Exclusive media patronage: